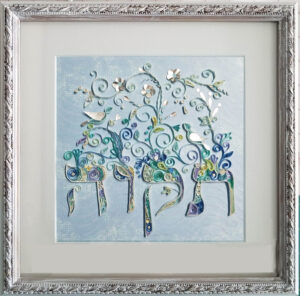 This quilled artwork uses paper and 6K gold leaf to invoke the optimism of the Hebrew word "Tikveh (Hope).  The letters reach upward as the colors lighten. In the background is a textured blue paper, with slight waves. The 6K leaf appears a deep silver, and is a pleasure to work with. Click on the tiny image to see it better. The piece is 13″ x13", in an ornate silver and white frame. It is $700.
It was created for the upcoming Walanka on-line exhibit "Tikveh" sponsored by the American Guild of Judaic Art
It was then accepted to the show "All That Glitters – work by the Society of Gilders" at the Polasek Museum in Winter Park Florida, where it was sold.