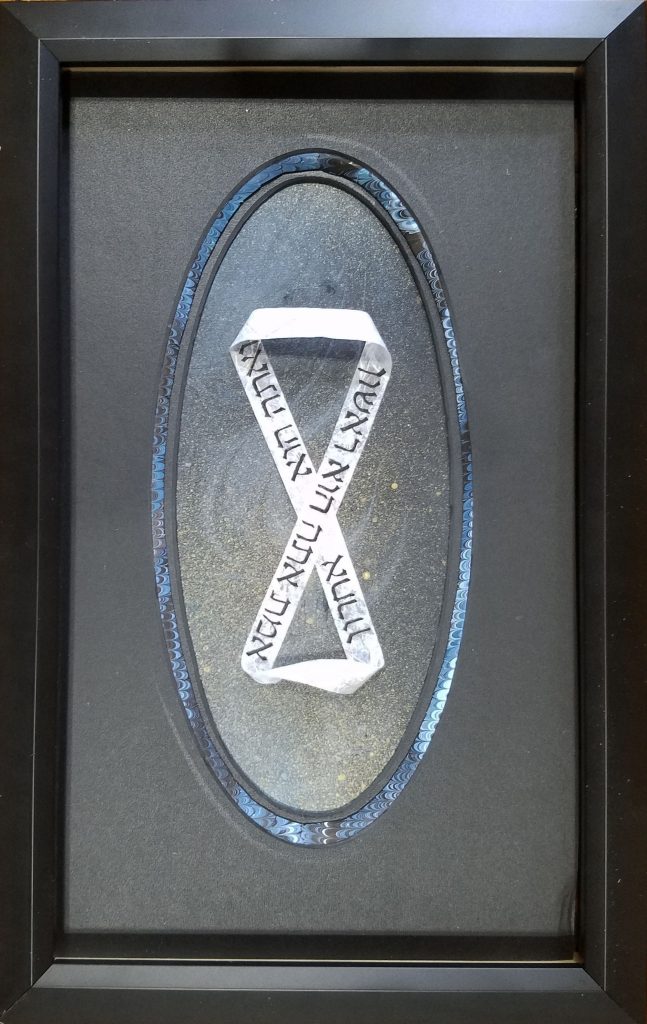 "True, you are the first and you are the last (Emet, ata hu rishon v'ata hu ackaron)" is one of the benedictions recited every morning following the Shema, the Jewish statement of faith.  A Mobius strip is a twisted loop of paper; if you follow it along one side, you seamlessly transition to the other side, on an infinite pathway.  The blessing and the physical construct seemed to go together in my mind.  The verse begins at the bottom left going upwards, circles invisibly, and finishes by descending from the top left to the bottom right.  It is not easy to navigate, but as my teacher Michael Gilbert taught "Art doesn't always have to be easy".
The word "Emet", means "true" or "truly" and is not only one of the names of the Lord, but it is made of the first, middle and last letters of the Hebrew alphabet aleph, mem, tav.  I love this.
The background and one of the mats are covered with different marbleized papers, courtesy of Jill Deiss at Cat Tail Run Hand Bookbinding.  The Mobius loop is made of Unryu paper, with inked lettering.  Framed, it is 11.5″ x 18″ and 1″ deep.