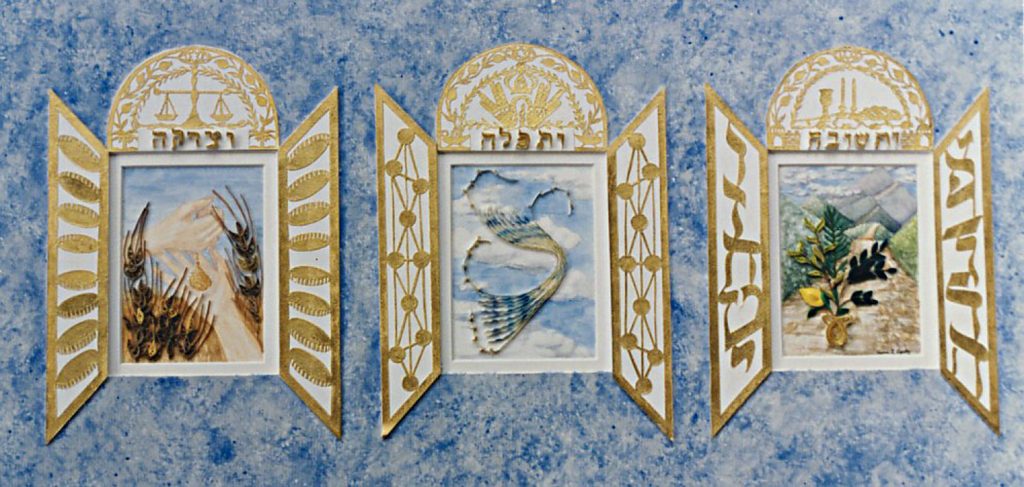 "The Three Gates" -35″x 20″- (1996) quilling, 23k gold, paper cuts, gouache.
The High Holy days prayer, "Unasaneh Tokef",  composed in the eleventh century, recounts the judgments that may befall us in the year to come, but ends with the reassurance that "repentance, prayer, and righteousness (teshuvah, tefillah, tsedakah) avert the severe decree."  These paths to forgiveness are illustrated here by three gates.  Common to all of them is an arch of pomegranates, a traditional symbol for life and for the 613 mitzvot (commandments) described in the Torah.  This was a labor of love, and the following midrash is my own, synthesized from my teachers.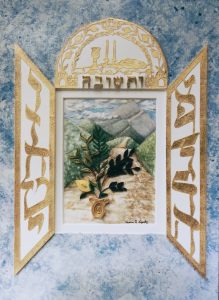 The first gate on the right, is "Teshuvah", meaning both return and repentance.  A "lulav" is in the foreground.  This bundle of willow, myrtle, palm, and citron classically represents aspects of the soul.  The painting behind the lulav indicates the journey of return.  Since one way to begin a spiritual return is by observing a single mitzvah, such as celebrating the Sabbath, the archway shows a set table with the traditional Sabbath candles, wine, and bread. Below this, to either side, is an allusion to Jerusalem, the ultimate site for return. The gates are composed of the ten Hebrew letters representing the ten commandments.  In addition, learning the "aleph bes" is another way to begin the return.
The middle gate is "Tefillah", prayer.  Prayer is accomplished both with physical rituals, as in the "tallis" (prayershawl) in the foreground, and intangible meditatio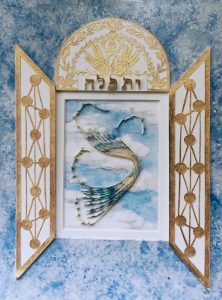 n.  The spheres in the gates represent the 10 spheres of heaven and earth and their paths of interconnectedness, as described by the Kabbalists. In the archway the hands of the High Priest, blessing the congregation, contain the words "Ayn Oed (There is no Other)".  In each lower corner is a "Ner Tamid (Eternal Light)" which is present in every sanctuary.
The last gate is "Tsedakah", meaning acts of righteousness, charity and justice.  The highest form of charity is to enable others to help themselves to become self-supporting.  This is symbolized by a painting of hands passing grain, to ultimately provide bread.  The gates are made of 8 coins, representing the eight ascending levels of charity described by the philosopher Maimonides.  In the archway is a scale of justice, and below it, to either side, are date palms, reminiscent of Deborah, who sat in judgement under the date palm.
Techniques used:  The gates were made with cut-outs of 23K gilded paper, and the Hebrew was quilled with 23K gilt-edged paper.  The background images were painted with gouache, and the foreground was quilled.  The surrounding mat was sponged with gouache.
This artwork was exhibited at the former B'nai Brith Klutznick Museum in Washington, DC, and was then donated to Congregation Beth Jacob in Mendota Heights, MN.