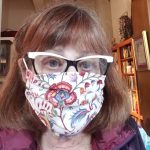 Last year was absolutely filled with new adventures and creations.  This year, so far,  has seen some of the saddest and most frightening situations I have experienced, due to the virus and current events, such as racial intolerance, economic failures, and political machinations. 
I hope you are all well.  I am fortunate to live in an apartment building where I can be isolated when necessary, or see my neighbors under safe conditions when I want to.  The time spent alone has been spent quilling, sewing, and taking care of the Society of Gilders.  My synagogue is doing a great job with on-line services and social and educational events.  I even gave a class on making paper flowers!
This is a time when we are more aware of "tikkun olam" – rebuilding the world, to make it the best it can be. Some believe God began it and left it for us to finish; so far, we have done a pretty poor job overall.  Let's hope this is the signal we need to turn things around.
In spite of all the bad news, I still feel optimistic enough to create some artwork and have some fun.  Here's what I've been doing.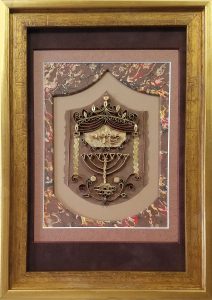 A "Shaddai" is a traditional amulet, displayed in a home to ward off misfortune.  They were usually made of metal with ornamentation, and some contained a bit of parchment with sacred verses. The name is an acronym of the Hebrew letters on the front – Shin, Dalet, Yud, which stands for "Shomer Dalet Yisrael" – "Guardian of the Gates of Israel".  In this it is similar to a mezuzah.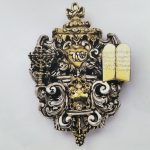 On the right is an example of an antique shaddai from the collection of the Israel Museum.
This shaddai is made entirely of paper, edged or covered with 23K gold leaf.  The quilling varies from 1/16-1/8″ in height. The menorah is quilled with layers of crimped paper set on edge.  All of the matting and framing is my work as well.  It is approximately 8″ x 12″.  To order.
An etrog box protects your etrog (citron) during the week of Sukkot.  This design is based on the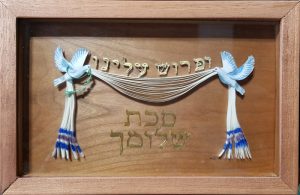 Hashkieveinu prayer, and the Hebrew says  "Spread over us the shelter (sukkah) of your peace."  The design is quilled.  The Hebrew letters are formed with quilled, 23K gold leaf -edged paper, and raised gilding on wood.  The cherry box was made by  Merle Krueger and is 5 1/2″ x 8″ x  4/1/2″h, with a magnetic closing.   It comes with a carrying case that I made.  To order.
I also created two additional etrog boxes – "The Four Species"   and "Sukkah" 
Sewing has become more rewarding.  Many of my sewing colleagues have joined the effort to make masks, and I did, too, donating about a hundred to medical institutions, hospice, and family.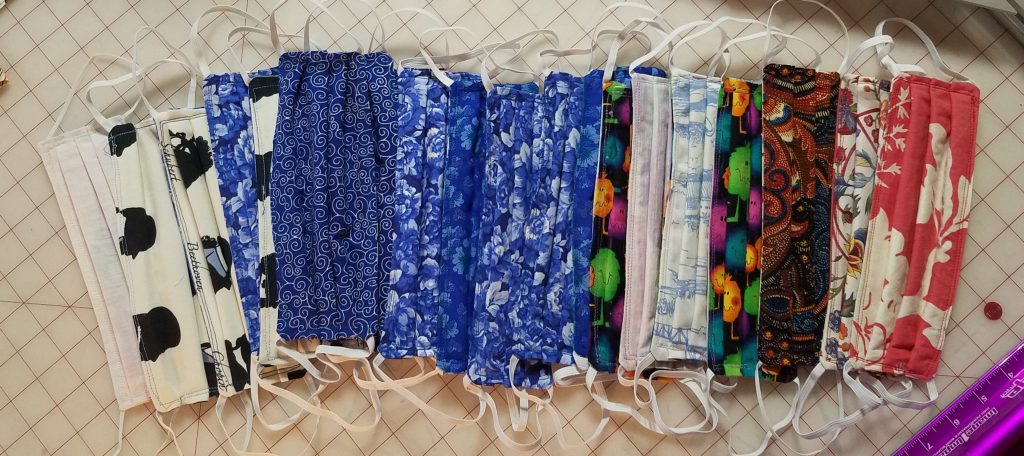 Please stay safe, and hope for better news in the future!