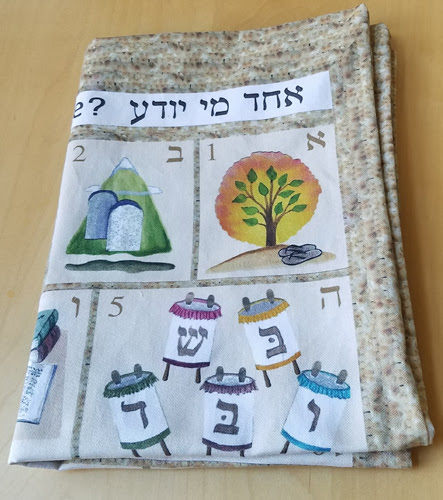 We are supposed to recline at the Passover seder, like carefree people did in days of yore. But who has a pillow that is suitable? Here is the perfect solution – a standard size pillow case that illustrates the Passover song "Who Knows One?"  On the back, matzoh!  Put it on any regular bed pillow, and after the seder, you can fold it away for the next year.
I created the design with paint and cut paper, and have digitally adjusted it to optimize for the custom printing.  The matzoh is from a digital photograph that I took of a real matzoh. It comes with an explanation of the symbols I chose for the design – a midrash on the song, as it were, and washing instructions.
Pillow not included!
 Each case is pre-washed and individually sewn by me, of a heavy weight 100% cotton, with a Velcro ™ closure on the back. 
Don't wait too long to order – Passover begins March 27th, 2021.  
Order here