Description
A "Shaddai" is a traditional amulet, displayed in a home to ward off misfortune.  They were usually made of metal with ornamentation, and some contained a bit of parchment with sacred verses. The name is an acronym of the Hebrew letters on the front – Shin, Dalet, Yud, which stands for "Shomer Dalet Yisrael" – "Guardian of the Gates of Israel".  In this it is similar to a mezuzah.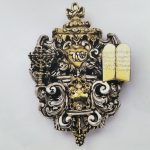 On the right is an example of an antique shaddai from the collection of the Israel Museum.
This shaddai is made entirely of paper, edged or covered with 23K gold leaf.  The quilling varies from 1/16-1/8″ in height. The menorah is quilled with layers of crimped paper set on edge.  All of the matting and framing is my work as well.  It is approximately 8″ x 12″.
Price includes shipping.