Ari Jacob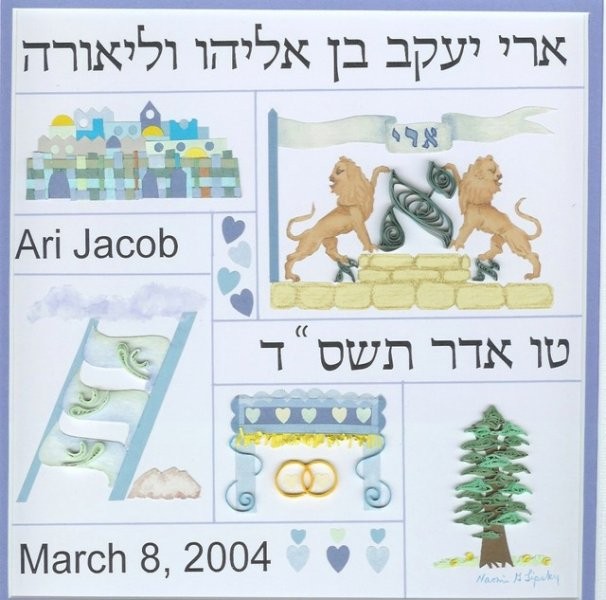 Jerusalem is the city of greatest importance to all Jews, and to Ari's family especially, and he has a particular connection to it.  Ari was born on Shushan Purim, the 15th of Adar.  It was decreed that all walled cities should celebrate Purim on this date, not on the 14th of Adar, when everyone else celebrates it.  So his birthday is a special day in Jerusalem.
"Ari" means "lion", and it is hoped that Ari will exemplify all of the noble characteristics associated with lions.  The lion is also a symbol of the tribe of Judah, and the Jewish people.  They face a large letter "aleph", both for Ari's name, and to recall his great-great aunt Ida.  The two lions are resting on small letter "alephs", a reminder of two of Ari's great-grandfathers, and the hope that he will draw support and strength from their memories.
Jacob rested his head on a rock and dreamed of a ladder with angels ascending and descending.  The three rungs of this ladder are three "yuds",  a connection with his great-grandparents. The angels here are stylized versions of the  letter "aleph" written in script, and also symbolize the linking to past generations.
The chuppah represents the wish that Ari will grow to "chuppah, Torah, and good deeds" and that he should have a happy and long marriage.
It was traditional to plant a cedar tree when a boy was born.  In Torah, the cedar of Lebanon is considered the "king" of trees, a fitting symbol for Ari, the lion.
quilling, cut paper, gouache, 8 x 8