Bar/Bat Mitzvah – Parshat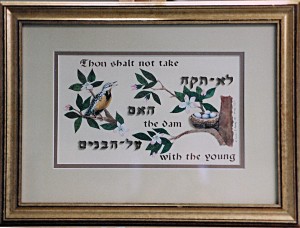 This type of design is  based on the Bar/Bat Mitzvah's Parshat or Haftorah.  In this case, it was Parshat "Ki Teitzei".  The verse illustrated is Deut 22:6,  "Thou shalt not take the dam with the young".  This is one of the laws regarding the humane treatment of animals, and by extension, all living creatures.
The design is painted and cut paper,  the Hebrew letters are quilled, and the English is gouache calligraphy. 9 x 12, private collection.